I was notified Friday that Marcy from
The Mustache Diaries
nominated me for a Sunshine Award! I just love her and her blog!
The award is circulated to those bloggers to let them know that their posts brighten your day.
***
1. Include award logo in a post or on your blog (above).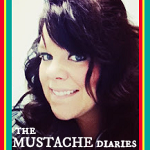 3. Answer 10 questions about yourself.
4. Nominate 10 bloggers to receive the award. Link your nominees to the post and comment on their blogs letting them know they've been nominated.


Questions from Marcy:
1. What is your biggest fear?
Snakes and Spiders. Oh and heights too. Terrified. Seriously. I can't even watch snakes on tv. I will have nightmares.
2. What is the one item you couldn't live without on a daily basis?
Coffee. Yep. I need my morning cup!
3. Have you ever been arrested?
No, never. I lead a very boring life and I hope it to remain that way. After watching a few episodes of Orange is the New Black, I'm now convinced more than ever that I wouldn't last a minute in jail. Nope, uh uh, no way.
4. What is your favorite thing to pass time?
I'd like to say that it is reading but I can't seem to do that as often as I would like. Really watching tv and/or movies. I'm a tv/movie junkie.
5. Do you collect anything?
Ok yes, I have 2 collections that have started over the years. My first one started since childhood and I've been collecting Pluto figurines, plushies, etc. Just about anything that has Pluto on it, I want it!
The newest obsession/collection has to be our nerd cabinet at home. This is stuff that Chris and I have collected over the years. (Note this is the only pic I could find on Chris's fb page about the nerd cabinet. This pic was taken in 2009 before we started going to conventions.. So, this cabinet has increased in girth since this was taken).
We also have stuff at our desk at work too. Here's mine taken exactly 2 minutes ago:
From L to R: Tardis Coffee Cup, 10th Doc, Danerys, Elliott, The Empty Child, Disney Snow Globe, Pluto, dolphin, Pluto again, Tampa Bay Bucs retro helmet and Captain Jack Harkness.

6. How did you get started in blogging?
I started slowly making some changes on November 7th, 2012. And I figured that I wanted to keep a record for myself of where I've come from, what my struggles are/were and just about my journey in general. I thought that in writing it all down, it may just help me be accountable. And so far it has!
7. Do you have a lead foot when you drive?
Chris probably thinks so, but no I don't. I'm actually a very safe driver I think.
8. What is the one movie you could watch on repeat and recite all the words to?
Ok the first one that I'll admit too is really cheesy, but you have to understand that during the summer of 1986 I must have watched this movie HUNDREDS of times. I can totally recite any line from "Top Gun" And the more "me" movies that I can recite are Star Wars and The Shawshank Redemption.
9. What's the worst present you have ever received?
Bunt cake pan. I can barely make instant oatmeal without ruining it! But I am working on the lack-of-cooking skills that I possess and maybe I'll eventually put that Bunt cake pan to good use.
10. Do you like me? =)
DUHHHH! you are like one of my favorite bloggers! I only recently discovered you but I am so very glad that I did! :)


Questions for my nominees:
1. What's your favorite movie of all time?
2. What is the 42nd picture on your cell phone of?
I just happened to count and in case you are wondering, mine was a very grumpy pic of Chris and Dev on Christmas morning a few years back. B.C. (Before Coffee...)
3. Who is your favorite author?
4. What is your best advice for anyone who is trying to lose weight?
6. Who is your celebrity crush?
7. If you were given $10,000 to give to any charity, which one would you give to?
8. What did you want to be when you were growing up?
9. Since Fall is on the way, what was your favorite Halloween costume growing up?
10. What's your favorite inspirational or motivational quote?


I nominate: