I feel like sometimes my Non-Scale Victories are few and far between but I actually have a couple to share today!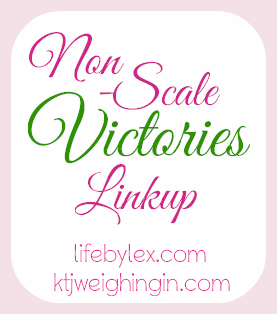 First up, I have to buy new undies! I know that is like the least exciting NSV in this history of NSV's but hey it's something! And any chance I can get to buy some Wonder Woman or Supergirl undies is a good day in my book.
Next, I pulled 2 shirts out (One is mine and one is Dev's. - guess which one is which..) Ok, nevermind, I'll tell you anyway. I bought the purple and blue stripped shirt back in April and it wasn't quite ready for public viewing *ahem*
way too tight.
So I stuck it back in my closet to wear at a later time. Well that time was last Friday!
And so since I'm trying to find smaller clothes that I can wear, I decided to take a gander through Devyn's room and see what she had. I buy her stuff all the time and, well, you know how it is with teens. They never wear what you think they should. Some of the stuff still had price tags on it! *insert grumpy mad face*. So guess who hit the motherlode (ha! see what I did there?!) and I grabbed a few things to put in my closet for the time being. I still have several more drawers to go through in her room but for now I will show you this. This is me in a XL from Hot Topic. Hot Topic is notorious for tight stuff so I am really thrilled about being able to fit in this! Plus, I can wear Jack Skellington for Halloween!
Do you have any NSV's to share today? If so, do the link up with us and share them in my comments too!