Morning everyone! A quick post before work here and I just wanted to wish everyone a Happy Halloween! One of my all time favorite days of the year! I miss the days of taking Devyn trick-or-treating but now I do still enjoy handing out candy and enjoying seeing all the little ghouls and goblins!
The extent of my dressing up this year is going to have to just be my earrings. I figure once I get goal (next year...maybe!) then I'll be all about dressing up and being awesome! LOL
OOhhh! Guess what?? We FINALLY have a
Trader Joe's
opening up here in Baton Rouge today! I can't wait to go check it out. Does anyone have any recommendations on what I need to be on the lookout for?
My NSV for this week is actually getting in, zipping up and fitting comfortably in my wedding dress! Before we left for the concert Friday I was really, really bored and I was going through some things in my closet. I said what the heck when I came to my dress and tried it on! I'll try to recapture the moment and take a pic soon. :) So for now, you'll just have to believe me. I haven't fit in it since the wedding 9 years ago, so being able to slide it on was pretty awesome!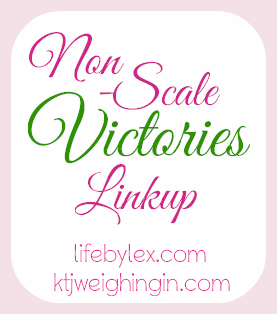 Hope everyone survives all the candy today relatively unscathed and without tummy-aches! Happy Thursday everyone!