So remember my post
yesterday
about the little streak that I had managed to start? Yea, um, I totally jinxed myself. I had the best of intentions though but when I look back I had several missed opportunities that I should have acted upon. The game plan yesterday was for Chris and I go volley and work on tennis. Chris didn't get home until around 5:45 so we were pushing to get out of the door before sundown. Also, as soon as I got home from work yesterday, I went into our master bedroom towards the bathroom. Every now and then the door locks on its own for no apparent reason. Yesterday it did it again. We put the key on top of the door frame but I can't ever get it to work right and all of my workout capris just happened to be in the bathroom. So instead of just killing time by walking (I could have put on normal jeans or something...) and waiting on Chris to get home, I plopped my behind on the couch. Missed opportunity #1. Missed opportunity #2 and #3 were from me oversleeping yesterday and not walking during my lunch break. And missed opportunity #4 is because the park that we normally go volley on had Tennis League matches going on and all the courts were full. D'oh to us. So at this point the sun was starting to set so I pulled out my phone and started googling local BREC parks that have lighted courts. We went to 3 different parks and they were either full of people playing or the lights weren't on. At this point it was nearing 7:30 and I was starting to get grumpy from being hungry. I had really hoped and planned to be home by then so I just told Chris to forget it and we would just do our normal lesson today. And because I was so grumpy apparently I get even moreso when I miss a workout now especially when it is my own fault.
Anyhoooo, time for a new streak I suppose...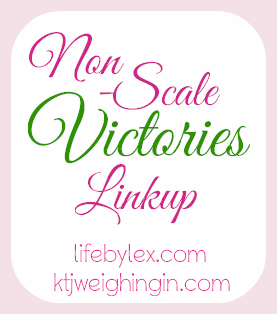 My NSV for this week is a big one for me personally. A little backstory here. Throughout my entire life, when things got tough, I quit. I've started so many, many things and have never seen very many of them through. I was the opposite of the Billy Ocean song, "When The Going Gets Tough, The Tough Get Going". I stopped playing basketball my senior year of high school instead of sticking it out and I've regretted it every single day since then. I could have had wonderful memories of that last year but instead I have none. I have a whole slew of self-esteem issues and I get really down on myself a lot of times and the not seeing things through usually falls in line with those issues.
But, I'm gradually learning things about myself during this whole process of dieting and exercise. I'm slowly learning that I am much stronger than I think I am, and by that I mean both emotionally and physically. Heck, after coming in last in 2 different 5K's would have normally sent me into a tailspin of embarrassment and self-loathing and I'm pretty sure the old me would have never done a second one much less continuing to search for new races to sign up to run.
So my NSV this week is not giving up.
This pic is so amazing to me. It doesn't matter really if you come in first or last. The fact that you got out there and gave it your all is what really counts.
If you are in need of some motivation, check out these pics from some of the finishers of the
Twin Cities Marathon
recently.