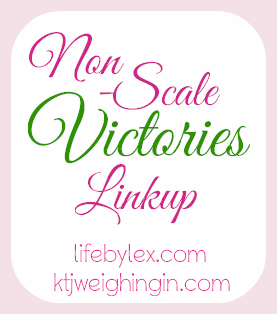 Surviving a trip to New Orleans and only eating 1 and a half beignets is totally going to be my NSV for this week! Seriously guys, those things are sinful!
Another huge NSV for me happened this morning. I hit a streak of 315 days of logging through My Fitness Pal! Seriously this I think has been the BIGGEST thing to help me keep on track this whole time. Logging every single thing and making myself be accountable really has helped my focus this time around. I truly believe that.
So I've been a bit down about the weight loss stall. So I figured it was time for me to do another comparison pic update. Those always remind me just how far I have come and that all the counting calories, exercise, water has not been in vain.
(Why in the world did I ever think it was ok to wear that orange shirt in public at that size?!)
OH! In other news, hubby finally joined me in a walk last night and he agreed to go to take tennis lessons with me tonight! Fingers cross that the weather stays good. I'm afraid if we get rained out, he may chicken out next time. While we were walking, I vented to him about the fact that I think my stall may be related to what we eat and that I may need to consider starting to make our meals a bit healthier or at least try to.
And I've also decided to try an Ab challenge this month and I'm really going to try to commit to hitting all my steps every single day (counting them through the Fitbit). So I'll keep you all posted on that progress as well!
Hope y'all have a wonderful Thursday filled with your very own NSV's today!
October Exercise Minutes - 146/1600 (* I upped these to 1600..

I think I can, I think I can).