Hello to all the new visitors coming over from Katie's
Runs For Cookies Motivational Monday post!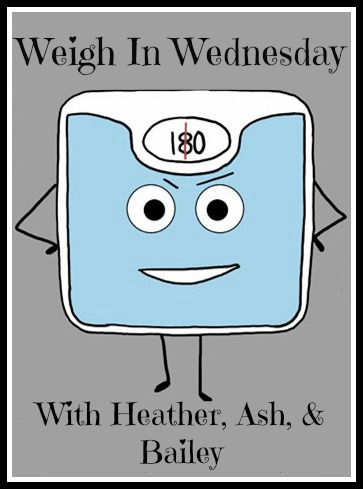 Well it's already another Wednesday and that means another weigh in day! I really worked my behind off this week and I was really hoping for a decent loss.
Excuse the smeggy scale. I need to clean it. The cats tend to get on it and well, be gross...
Down 1 pound. I am happy but I was actually hoping for a bit more. I know that I still need to just celebrate the loss but can't help but feeling frustrated about the fact that it is so hard now to lose. I feel like I am fighting for each and every pound now when it seemed to be so easy at the beginning. Chris and I have really worked hard this week at revamping our food and working on trying to come up with healthier options. Plus having him on board with the exercise has been so great! He walked with me twice and went to tennis clinic last Thursday. I'm trying not too push too hard, but hopefully he will start doing a bit more and more each week. Maybe we can even add him back to my YMCA membership. I know, I know... baby steps!
Speaking of food, we haven't had that yummy
Shepard's Pie
in a while, so Chris and I made it last night. We made 2 batches, one for him and one for me so that we have lunches for the rest of the week (after eating it as a meal last night). It came out so good! It's easily become one of our favorites.
The weather has been absolutely stunning around here recently too. I've actually been going to walk on my lunch break which was practically unheard of during the summer. I think it was 72º yesterday during my walk.
And the cats have been super snuggly lately.
Back on the workout front, I've been really proud of this streak. I didn't start out this month planning to do this but I have hit 10,000 steps every single day this week and check this out....
So I may as well run (ha!) with it! We will see how this pans out. I'm aiming for hitting my steps every single day and doing something each day this month too.
Hope you all are having a wonderful Wednesday!
Are you enjoying the cooler temps? Do you have any exercise plans/streaks going this month?
October Exercise Minutes - 510/1600