A quick post here to wish everyone a wonderful and safe Thanksgiving! Wishing you all a wonderful day full of love and laughter, no matter what you do, whether you spend it with family or with friends, or even alone.
I'm heading to my mom and dad's in a few minutes. I'm going to do my very own Turkey Trot over there and hopefully get in at least 3 miles. After that, a shower is in order then a ton of baking and helping my dad with the Turkeys! Should be an awesome day!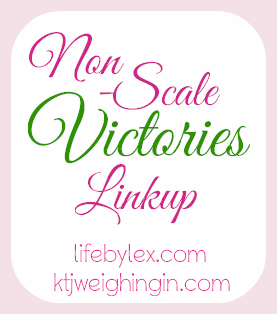 My NSV this week really is the fact that I've committed fully to being my best self this past year. I have a lot to be proud of but the main thing is that this is the longest and most dedicated I've been out of each of the millions of times I have tried to lose weight in the past.
This is last Thanksgiving:
And this was yesterday: (Hubby actually surprised me with some cold weather running gear! I had bemoaned on my blog about not having anything, but he actually didn't read my blog post yesterday! It was a complete shock as I wasn't expecting anything at all and just for the fact that he somehow knew...)
Alrighty, gotta get going here. Again, everyone hope you have a wonderful and Happy Thanksgiving!