I decided to join this linkup today! I absolutely LOVE Christmas! It's my favorite time of year! I love everything about it, the sights, the smells, the cool(er) weather, being around friends and family! And I love the search for the perfect gift. I even love wrapping presents. I still prefer wrapping instead of gift bags too (plus, we have cats...gift bags never live very long around here without a cat trying to jump into it!)
So here are the questions:
Favorite Christmas Song - O Holy Night
A very, very close second has to be ole Bing and David Bowie though
Christmas song that you can't stand - anything sung by Diana Ross. I immediate flip it.
Favorite Holiday Movie - Ok I've got so many to list here! One is another Bing Crosby classic. I absolutely LOVE White Christmas. I love it. A close second would have to be either National Lampoons Christmas Vacation, Elf or even my one and only rom com that I adore, Love Actually! I usually have a marathon each year of these movies and put them on while wrapping presents!
Real or artificial tree - I'd love to say real but we haven't had a real one since we've had cats. I used to love to go to the Christmas tree farm and cut down our own tree but it's been many years since we've done that. Cats and sap do not mix!
White or colored lights - both! I love plain white lights, but I also love solid colored ones too, especially the blue ones!
All matching ornaments or random personal ones - I'd love to say matching, but unless we by a second tree, ours is just a hodgepodge! We have personal ornaments mixed in with our nerd themed.
Favorite ornaments - A personal Devyn made one and then Chewbacca the Wookie!
Angel or Star tree topper - Star, but we have gone with a Yoda tree topper before and it was awesome until the cats broke it!
Does Santa wrap his presents or leave them unwrapped? - When Devyn was little, we wrapped but with separate wrapping paper that wasn't used for anything else but Santa!
Favorite Childhood memory - Totally tricking my cousin into telling me what I was getting when I was 7! I promised her that I would tell her what we got her if she told me first. Well, I broke my pinky promise as soon as I found out I was getting Star Wars characters!
Coffee, Hot Chocolate or eggnog - Coffee and Hot Chocolate, H.C. on Christmas Eve night though! (Coffee if we have to put together presents late into the night!)
Christmas morning at home or do you travel - Christmas is usually a whirlwind. We start off opening presents at our house, then we would stop by Chris's parents, and then to my mom and dads for brunch/lunch. Then back when Devyn wasn't driving on her own, we would have to bring her to her dad's so she could spend time with them as well. Then after dropping her off, Chris and I would go to a movie.
Traditional Holiday Meal or something unconventional? - We usually get a honey baked ham and make all the normal sides so traditional for us!
Personalized photo Christmas cards, store bought cards, e-cards, or "ain't nobody got time for that"?- Store bought cards. Although I think last year, I had to go the "ain't nobody got time for that" route! This year, they are going out though!
*********************************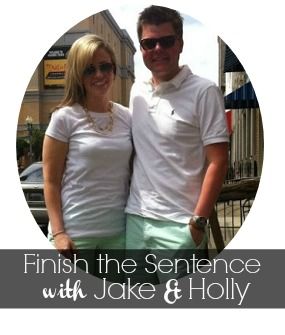 1. My favorite Christmas was…. after I had Devyn and realizing how much fun it was to give gifts instead of just receive them! I had a blast playing Santa and seeing Christmas through her eyes!
2. The worst Christmas I had…any involving my ex-husband. 'nuff said.
3. That one gift that made me scratch my head and say, "Hmmmm" was…Fondue maker. Yea, so not me!
4. One year I….went overboard with gifts! No, that's actually every year! :)
5. I think the worst gift to give is….clothes. Really just give a gift card unless you really know someone and their taste!
6. At Christmastime I typically….spaz out several times a Christmas season. There isn't enough time! I really need to start shopping sooner then I wouldn't be so stressed!
7. Typically, family Christmas….is pretty fun. We have a pretty large extended family and spend Christmas eve with them and my cousins all have little ones now so it's so much fun to see them going through all the emotions and frivolity with their children
8. If I could change one thing about the Holiday season….more time between Thanksgiving and Christmas!
9. It is so hard to buy for….my mother-in-law! I literally struggle with this every year! Chris is no help with suggestions either!
10. My favorite Christmas tradition is…watching Christmas movies while wrapping presents
11. Santa, baby, bring me a ….winning Powerball ticket. (me too)