Good morning everyone!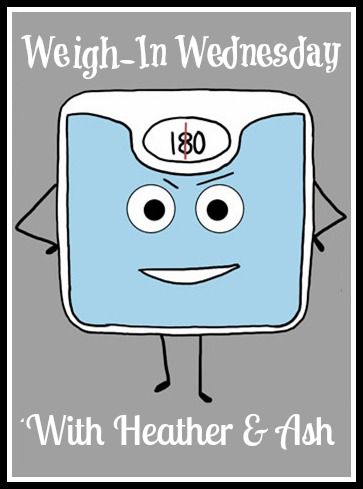 I'm joining in with Ash and Heather for their Weigh In Wednesday linkup again! I'm actually moving back in the right
direction
even though I'm not quite back to where I was after Thanksgiving. That's ok though... I'll get there!
Let's go ahead and get that out of the way, I suppose. I feel like even though I didn't feel like the exercise part was back 100%, I still did much better with my eating and was on target with my calories each day.
So the verdict is...
Down 2.4 since last week! So so so happy that the scale is finally moving in the right direction!
I had my very own last chance workout yesterday. Which technically wasn't any more than what I normally do when I do both weights and elliptical. But I did only manage 45 minutes on the elliptical. I started having a little flare up on the P.F. after Bowling on Monday night and my heel felt a little tender. So I decided to stop before it got too terribly uncomfortable, then just moved on to weights. I do have Physical Therapy again today so maybe that foot will ease up now too. I'd hate to have to buy new Bowling shoes now too. Geez, when does the Plantar Faciitis go away completely? I'm quite ready to be back to normal again!
After my workout yesterday I made a Snickers Protein Smoothie and it came out great!
*I got this recipe from Katie with Runs with Cookies.
Snickers Protein Shake
1 Scoop Vanilla Protein powder
1 Cup Almond Milk
1 tbsp Caramel Syrup
1 tbsp peanuts
1 tbsp vanilla dry pudding mix
1 tbsp oreo Cookies and Cream dry pudding mix
10 ice cubes
It was so yummy! It's definitely one of my favorites!
We've had some pretty frigid temps around here. I know all you Northerners are just gonna laugh at me when you see this but trust me, it's pretty damn cold for us in Louisiana! We aren't used to this!
And finally, I got my new Tech shirt and my Doctor Who Virtual 5K medal in! I was so excited! Ironically it came on the same day that Wizard World announced the best news ever. Doctor #11, Matt Smith is coming to New Orleans Comic Con! And just so you can tell how excited I am, I'll repeat. MATT SMITH IS COMING TO NEW ORLEANS COMIC CON!!!!!!!!!!!!!!!!!!!!!!!!!!!!!!!!!!!!!!!!!!!!!!!!!!!!!!!!!!!!!!!!!!!!!!!!!!!!!!!!!!!!!!!!!!!!!!!!!!!!!!!!!!!!!!!!!!!!!!!!!!!
OH. EM. GEE!!!!!!!!!!
Today actually is the 30 day mark! I'm so so so so excited! I can't believe I'm going to be in the vicinity of a real live Doctor! I will do everything in my power to get an autograph and as many pictures that I can!
Alrighty guess I need to wrap this up since I have to get to a Dentist Appointment! Y'all have a great Wednesday!