Good morning everyone!
I'm linking up again with Ash and Heather for Wednesday Weigh In!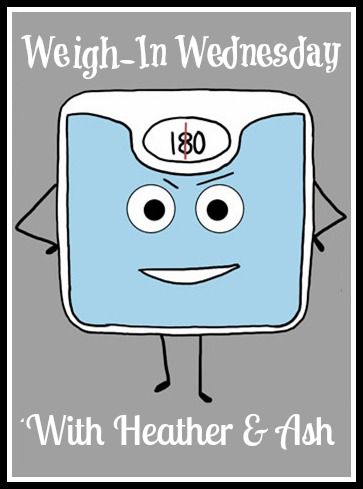 Time for today's
weigh in
. So far I've had a good Monday thru today so we'll see how this goes. Weekends kill me every single time and are my biggest downfall so I feel like I have to pay extra attention to Monday and Tuesday and getting back on track. I'm really going to try this coming weekend to be good and by being good, I'm going to lay off the beer. Because when I drink, I start grazing mindlessly. And for the love of all that is holy, we need to stop buying potato chips too. That's my weekend pattern it seems. Beer, all the food and potato chips.
Sooo that being said time to get down to business.
I'm not even disappointed really. I am down 0.4 this week but T.O.M. is knocking on the door and, well, see the above paragraph for all the poor choices I made. It's a tiny loss but still a loss.
Chris and I went to our first Tennis Apprentice class last night! Sorry no pics, but it was the biggest class that we've attended thus far. I'd say there was about 18 people there. Ronnie separated everyone by experience and ended up putting me over on 2 courts with 3 other boys and Chris. We warmed up for a bit and then Jeremiah (the other instructor who was overseeing our side of the courts) had us rotate and start working on specific shots: Serves, returns - backhand and forehand, lobs, overhead smashes. No volleying though. Chris and I both feel like our serves are our biggest weak spot at this point and we both felt like we had some improvement there.
There is a problem playing with Y.A.M.'s (Young, Aggressive Male's) though. And being that I'm a larger target than most. They are so intent on showing off their power with the overhead smashes that I nearly got hit twice. One guy even got nailed in the nuts and did the "falling on the ground, writhing in pain" thing. That part was actually kind of funny. So anyway, let this be a lesson boys, you are not Roger Federer. You don't need to show off quite so much, especially if you are a newbie like most of us are.
The drills went on for about and hour and a half and then Ronnie had us divide off into teams and play to 2 games. I ended up with another instructor (I didn't get his name) and we played against Chris and one of the other newer guys. We won in 2 straight games! I won a tennis! heh
By the time we finished our baby match, Ronnie said to play the winner of the other court, which was the other instructor, Jeremiah and his partner who was new-ish but did play tennis back in High School (heck he looked like he was only a few years out of H.S.). Wow, was I ever outmatched. There was so much topspin-ing going on and crazy fast balls whirling by my head that I barely could even get my racquet out in time. This time fate had other plans and all those near misses from earlier... yep, got beaned in the arm by what felt like a 60mph line drive.
That is exactly how I felt
Plus, I think I really hit the wall of exhaustion around this time too. This game was alot closer than the other one and we ended up being tied 2-2 but they did pull it out and ended up winning the match with a sudden death zinger that flew off my racquet. Ahh well. It was fun. I was not even remotely matched up with the right level of people so I got a little experience playing with some really good opponents and do I ever need a lot of work!
Safe to say that tennis burns a TON of calories! I even ate a bit more than I normally do and still managed to be on the negative with net.
OH! Another thing. Because we signed up for this class, included in it was a year membership to the
U.S.T.A
. I'm official and shit now! And, our local USTA marketing person gave Chris and I a ton of really nice swag!
I am loving the tennis ball lunch carrier! I brought it to work with me today!
How was your weigh in this week? If you are local, next Tuesday night's Tennis is a "Bring your friend to tennis class". Anyone want to join me?