Morning everyone!
I'm unusually chipper this morning and I haven't even had my coffee yet. Weird! Maybe it's because I FINALLY am back in the 180's this morning. Barely there but there all the same! So that brings us to
Weigh In Wednesday
and the linkup that I love to participate in!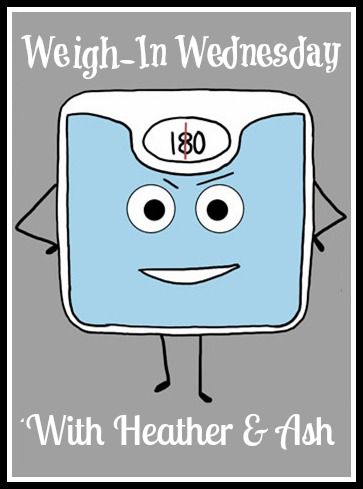 Down 1 pound this week and I'll absolutely take it. I've been working hard and really watching what I eat since Saturday and exercise has been really consistent lately. I almost feel like my tenacity is back to where it was prior to last October (before Chris's dad's hospitalization and decline). I am ready to move on beyond these numbers that I've been seeing so many times on the scale so my dedication is back, baby!
Last night was the last lesson phase for the Tennis Apprentice program that we've been doing. And since it was a "bring a friend" recruitment type thing, they had us on 7 courts instead of 4 and this time I didn't get to hang with the boys. I panicked a little, not gonna lie, not being on the same court as Chris. I'm not really comfortable with people I've never met. But I tried to just be friendly and not show too much anxiety and let the tennis do the talking, so to speak. Overall, I'd say it was a positive experience for sure and I'm glad that they did break us up because these are things I need to work on anyway. It's weird because I can just go to the gym and do my thing and I'm not bothered but put me in a group setting, and I freeze.
We went through various drills for almost 2 hours and then the USTA rep invited us all to a local restaurant,
Lava Cantina
, for appetizers, drinks and socializing (ahhhh!). She explained that if you signed up for the league that you get a really nice USTA jacket. Chris and I were a little hesitant at first. We are really just taking the lessons and playing/volleying with each other. I'm not wanting to be the next Serena Williams or anything but I do want to improve my game. After much discussion, we decided to just through caution to the wind and sign up because we can volley around all the time and only slightly improve. And since the lesson wasn't an all together horrible experience and quite honestly we could stand to meet new people. So we did it. We are now on a tennis league. Bad news is that the mixed double league doesn't start yet. We will have to both get on same gender teams (with stranger dangers!) So out of my comfort zone.. just a bit.
Ok enough talk of my social anxieties.
The restaurant was pretty awesome. They played actual music videos all over the television sets and it wasn't too obnoxiously loud. But oh my god, the food. They just kept bringing never ending appetizers. We each got a free drink when we got there. Chris got a large margarita and I opted for a small. I had finished all my calories for the day and wasn't planning on eating but I did cave and eat a small mini-chimichanga along with my small margarita. I did good and stayed far away from everything else, even though I was stink-eyeing the heck out of those delicious looking meatballs that were in my face. (Why couldn't they have had this the day AFTER my weigh in...?)
We after about an hour and a half and us signing up for the league, we finally decided to head home and call it a night. We left the restaurant at around 10 and trust me for these 2 old folks, that is a late night!
Oh and these are our new nifty, spectacular tennis jackets and our 2 newest t-shirt acquisitions! Pretty sweet!
How did everyone else do this week?