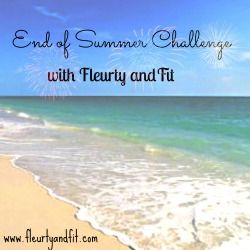 Linking up with Fleurty and the other lovely people who are doing the End of Summer Challenge!
5 days in so far and I'm doing pretty well! I'm really trying to follow my goals and be hyper sensitive to what I'm eating with this challenge. These are my goals:
And let's recap how I did so far.
1.) NO beer - Check. Done and none!
2.) 100 oz of water/day. So far I've only missed this on Wednesday
3.) Enter all food into MFP. Yep so far so good since Monday.
4.) No weighing. Um, yea, I already broke this one on Wednesday.
5.) Get below 186. Too early to tell but I'm 4.2 away as of now. :)
6.) Blog at least 2x per week. Done. Click
here
and
here
. And today's post makes 3.
7.) Weekly meal plan. Check! And I've only deviated once (yesterday) but still stayed within my calories. Although I will say we had an abundance of leftovers this week from dinners so I haven't had to cook at all this week except once.
So only one goal broken but I'm getting Chris to hide the scale from me for the rest of the challenge.
These are typical meals for me lately. For breakfast I've been having a protein shake (on the mornings that I get up and exercise) and fruit (and coffee...always yes to coffee).
And during the week this is a typical lunch for me since it's so easy to prep for all 5 lunches. Lemon Pepper Chicken, baby carrots with cinnamon sprinkled and Balsamic Garlic baked asparagus.
Dinner is whatever we have on tap. Usually a pork chop, or baked or breaded chicken with 2 veggies. (no pic).
Also, something big this week. I've actually gotten up and gotten a run/walk or just walks in 3 times this week. That is practically unheard of for me. And twice this week Mr. Skinny Geek has joined me too. So it's not much but it's a start. Some mornings we can only do a quick 20 minute walk but it's better than nothing. Just the fact that I've dragged myself and gotten up and got some of it done before work is really something. Now if only the weather would cool down.
And since I'm so addicted to Nutter Butters I though I'd try to concoct a Nutter Butter Protein Shake this morning. It came out ok but I may need to tweak it a little and try to figure out something to make it a bit tastier. It was good, just not great.
This is what I did:
Nutter Butter Protein Shake
1 cup Silk Unsweetened Almond Milk
1 scoop Vanilla Whey protein powder
1 tbsp dry Vanilla Jello mix
1 tbsp Torani French Vanilla Syrup
2 tbsp PB2
10 ice cubes
And keying this into MFP has the calories at 130.
So really I have to say this week has really been a success for me. I'm planning on keeping it up!