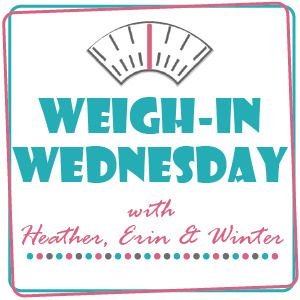 Ok so my not logging in MFP has seriously come back to bite me in the behind. I thought that since I pretty much eat the same thing day in and day out that it wasn't necessary to log. Between that and mindless snacking, I am up 2 pounds this week to 204.8. Sorry no picture. This
weigh in
is on me. I've gotten lax once again with food so time to tighten up the reins and do what I know works. I had wanted to be down to where I was before I went on vacation in November (186.6) by the time I go to New York (a month away..) but that just isn't gonna happen. So now I just want to see at least 195 again by then, and that seems a bit more reasonable. That's 10 pounds in a month.
Of course, I need to focus on portion control again and WHAT I'm eating and to log everything, even the bad. I can't keep buying Nutter Butters and think that I'm going to actually drop weight with them in the house. Because everybody knows that you can't just eat one Nutter Butter. One leads to twelve.
We've been having a lot of rain here lately and we were unsure as to whether or not we would be able to play our league matches last night up until the last minute. We finally got the green light to play. It was a good night on the courts! As a team, we won 2-1 with both of our doubles teams winning their matches and our singles player lost hers. My serve was a bit more consistent last night but maybe because of the lack of practices or matches lately, I just felt like it was an "off" night. I'm glad the other team had an "off" night too and we were able to secure our victory at least.
A post-match victory selfie with Ollie
A teammate and I are playing in a for-realsies tournament this weekend and I'm really excited about it! There is only 10 people total playing our level - 2.5 (or beginners tennis) so it will probably go pretty fast! We have our first tournament match this Friday at 5:30 and if we win, we will play Saturday at 8am and then again at 11am! Wish us luck!
Like any dog mom knows, I had to take about 20 pictures to get a halfway decent one of the above selfie taken. Here's a few outtakes from that "attempt".
I love this little doggie so much! But man, I am exhausted. I feel like we have a newborn baby and our schedules have been seriously out of whack lately with trying to feel out Ollie and get his needs met and all the cats as well. Ollie has been a dream but the cats, eh, that's another issue. I'm sure everything will calm down but its just all the little things. We bought some baby gates thinking that will allow the cats some 'alone time' from the puppy but 2 out of the 3 don't mind the gates. Apparently Loki is the lone exception to this and he ended up being scared of the gate and was 'trapped' in our bedroom for a few hours. We also had a gate in front of the laundry room - which leads to their litter boxes... well, as it happened, apparently we found out that Loki hadn't pottied since the gate went up and the few accidents that we thought Ollie had done, ended up being on Loki's behalf. Soooo, now ALL the gates are down and when we let Ollie out of his crate, we just have to keep a closer eye on the litter boxes so that Ollie doesn't get a taste for Kitty Poo-Burgers.
We also had an incident with Oz. We left Ollie's crate door open the night before last and Chris saw that at about 10:30 that night that Oz was "angry pee'ing" on Ollie's bed, crate mat and blanket. So, we knew that since Ollie was going to need to be crated while we are work, off to Wal-Mart we go to get another bed and mat.
Soooo hopefully everything will calm down and all the animals will start getting used to each other soon.
Oz is the "most interesting cat in the world" Stay Thirsty, My Friends