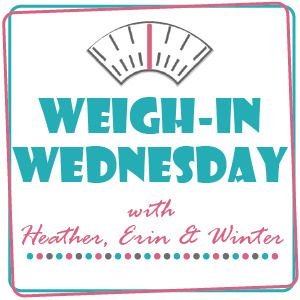 A few days late but trying to get back to a normal routine after returning from NYC! We had such a good time!
Quickie post here since I have some errands to run today and oh so much laundry to do.
I missed last week's weigh in, so the last time I did so was on May 13th. I weighed in at 210.2 on that day. I'm pleased to report that when I weighed in yesterday, I saw 205.0 on the scale. I LOST WEIGHT - 5.2 pounds -with (a) a knee injury and (b) while on vacation! What the heck! That never happens! I am beyond thrilled though. I actually was super hyper vigilant with every bite I took while in New York. I didn't log in My Fitness Pal, but I made healthy choices, ate tons of fruit and veggies and drank plenty of water (thanks to a little awesome facebook accountability group we have). You ladies kept me on the straight and narrow.
So on the knee front, I have still been in a lot of pain. Not so much when walking though, that's what is weird. Usually when standing still or sitting upright without the leg propped up. I've been having to ice it every day to try to keep the swelling at bay but it is still swelling pretty badly. I did schedule and go to an Orthopedic doctor yesterday. We are now waiting for my insurance to go through to get an MRI done. So really right now, I have no news yet on what is going on.
And I'm hoping within the next few days to get a post up about our trip to NYC. Until then, you'll have to ponder if I actually went up into any tall buildings and looked over the edge (I am deathly afraid of heights) and if we saw any celebrities. If you are my facebook friend, no spoilers! :P But I will say this, we had an amazing time. I only wish that I could have experienced it pain free. Oh well, that just means I need to go back, eh?!?!
Alrighty these errands aren't gonna run themselves. Happy Memorial Day weekend everyone!