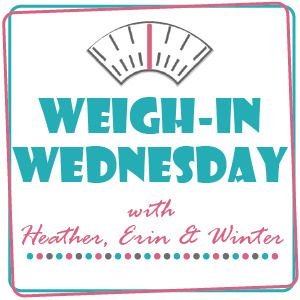 A day late. It's been crazy in Desiree'-ville lately. In between doctor's appointments, MRI doings, errands, planning my kiddo's birthday and still having knee issues, it's been a whirl wind since we got back from NYC.
Anyway, I
weighed in
yesterday morning at 204.4, which is a loss of .6. I wish it was more, but I'll definitely take it!
Since I've been basically non-existent with the exercise here lately because of my knee, I've really been working on watching my food intake and what I've been eating. I haven't been tracking in MFP though. I'm still kinda on the fence about tracking. I know I should do it but I eat the same thing pretty much all the time and I tracked religiously for 2 years. I'm trying the 'common sense' approach I guess.
I do have a follow up appointment this afternoon with my doctor and I will ask what I can do as far as exercise for now. I did have an MRI yesterday too so hopefully he will be going over that with me and hoping it's nothing serious. The doctor did prescribe some antibiotics last week and that seems to be helping with the redness/swelling of the knee. Maybe it was just the inflammation that was causing the pain? Who knows. It does feel better though but I still don't quite feel comfortable going to play a match or anything on it right now.
Mr. Skinny Geek is fully on board with the eating healthy thing now and we managed to hit up our local fruit and veggie stand/farmer's market this weekend. We now have fruit and veggies for days. Oh and I'm about to say something I never ever thought I'd ever say. Chris made some Brussels sprouts the other day (he is the only one in the family who eats them.) but he cut them in half and baked them with some Parmesan cheese and garlic powder (it may have been something else, I was resisting the urge to vomit because.. Brussels sprouts). Anyway after they came out of the oven, they actually didn't smell too terribly bad. He made me pinky promise that I would try one. After much resistance, I finally caved. I ate it and it was tolerable. I won't say I'll actively break out the Brussels sprouts for a meal, but I may eat a few bites here and there. So yea, adventures in eating!
I also discovered this deliciousness this past week. Only 160 calories too. I can't drink more than one at a time (it is very sweet) but I did like it!
And finally here's some animal pics. Oh Mr. Ollie is about to be in obedience training in a few weeks. It is time. My slippers have fallen victim.
My sweet Lo Lo bear
Cutest frog legs ever!
He has too much mouth and tongue
Aww
And finally, I want to wish my sweet lovely daughter, Devyn a very happy 21st birthday! I can't believe I'm old enough to have a 21 year old!