Bear with me, this will be a long post. Lots going on so this will be a combination W.I.W. and a Weekly recap.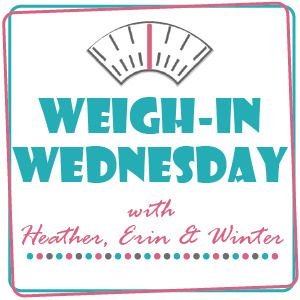 So I'm up .4 from last week to 210.2. BUT, I was down to 206.4 when I weighed in for another challenge on Monday and I know exactly what this gain is from. Our wonderful facebook group started a challenge and we are concentrating on getting our water in. And since I really can't do anything else this week (more on that in a bit...) I have been rocking the water! Oh and it could have also been the Chinese food that we copped out with and ate on Monday.
~*~*~*~*~*~*~*~
I met my mixed doubles partner and we played a match against the team captain and her partner last Wednesday. Had a really good game and I think I played better with the fast pace match of mixed doubles ironically enough. I was so nervous going in but it was actually really laid back. Oh and the best part. We played at a local country club and the guys bought us beer. (I do admit I only had about 1/2 of one). But that was pretty nice. I think alcohol makes me play better. Hmm must keep that in mind for future matches! :)
After we finished, I got a text from my daughter. She had tripped crossing the street (thanks Louisiana potholes!) and twisted her ankle pretty badly. So off I go to pick her up and take her to the after hours clinic. She has a bad sprain and we follow up in a few weeks with an Orthopedic appointment for her.
Over the weekend was the tournament that I signed up for at the last minute. I had a really good day though. Fortunately it was cloudy so it wasn't too terribly hot, although it was humid. I drank 2 - 64oz jugs of water by the time we left the tournament! Chris and I were not too sure where the Zachary YMCA was so we left the house at around 6:30 (my first match started at 8am) just to make sure we found it in time. We actually found it really easily. I picked up my swag bag at the check in and we helped ourselves to some food while we waiting (Chris had the doughnut and I had a banana).
Check in area and the place where we give our scores after we play
Pretty good bag of stuff! I get a racquet evaluation and re-stringing coupon, water bottle, a pen and a stylus, t-shirt, tennis balls, lemon cooled hydration towelette, change bag, some sort of tennis orange contraption that I need to google, a plastic cup and a cookie!
Around this time I texted my partner (whom I haven't met yet, the tournament set me up with her) and told her that I was here. She arrived not long after and was so sweet! We had a good time together and played well with each other I think. We met our first opponents and got ready to start our match. Our first opponents were very good. And even though we lost, I felt that we did well since this was the first time that Diane and I had met, much less played together and the other team, you could tell, had been playing together for quite some time. We lost the first match 2-6, 1-6. During the first set, no sooner had a made the comment that it was quite different playing on hard courts since I normally play on clay, that my feet got stuck and down I went. I landed squarely on my knee. I popped back up and kept on going. At the time it didn't appear that it was anything other than a scrape.
That loss put is in the consolation round. Our next match started at 11 so we had time to kill between the ending of our first match and the beginning of the next. We just sat around watching other matches. I could tell my knee was starting to stiffen up a bit. So Chris and I went and walked around a bit. Before you know it, it was time to start our next match.
We met the other team. Diane knew them as well and discussed with me some strategy and I noticed that one of the ladies wasn't running much towards the ball so I thought to myself that I would try to make her work for it. Diane and I communicated really well and we were able to keep up with them for the most part. But then (and this is the first time this has happened at least I felt this was deliberate) the opponents started playing a little dirty. I was making the one girl run for shots and I could tell she was getting frustrated. I was also using my favorite shot which is straight down the alley because she was giving me a big enough gap and I was taking advantage of it. Finally her partner finally calmed her down and when I was to receive the serve, instead of her playing up (which is normal) she ended up playing back along with the server. Weird, ok but not illegal to do. So I thought I would be smart and just try to drop it over the net. Gah, that wasn't working. Each time I tried that it went out. So I had to revamp my strategy a bit and just hit it normal. And THEN when it was my partner, Diane's serve and she was set to receive, she was moving up towards the net (usually the returnee stays back) and as soon as the serve bounced in her service box, she slammed the ball and hit it directly at me. Not to me, but AT me. She was deliberately aiming for me. So then that got in my head and I had to compensate by moving back a bit. Needless to say it was very frustrating. The score doesn't quite reflect how close the match actually was and we actually went back and forth to deuce (tie) about 10 times. We did that about 3 times so it was a long and hot and frustrating match. I think that we could have taken them too, if we were fresh and hadn't played for an hour and a half earlier in the morning. We lost 4-6, 3-6.
Chris and I didn't hang around too much after. I got my ticket for lunch, picked it up and we pretty much headed home. Once we made a few stops, I got home, showered and ate. When I sat down I realized that my knee was really starting to hurt. I didn't plan on doing much more that day anyway, so we basically just sat around and watched tv for the rest of the day. I did get an ice pack to put on my knee.
Saturday
Overnight on Saturday, I started to feel that it was getting really swollen and stiff. I stayed off of it for the most part on Sunday as well.
Sunday
Tuesday
Monday and Tuesday I was still in a lot of pain so I called into work. Tuesday I also threw in the proverbial towel and decided to call my doctor. I was able to get an appointment at 10am. He was also encouraged that I was able to continue to play but he did want an x-ray just to make sure the kneecap wasn't broken. Spoiler alert, it wasn't, thank goodness. But it is still very bruised, swollen and painful. I mentioned to doc that I'm also supposed to be going to NYC and that we are flying on Saturday. So he wants me off of it as much as possible between now and then. The swelling seems to be going down (see below) but the pain is still there.
Today
So I'm icing it down, taking pain meds and just resting. Mom said that if we have to stick me in a cab to get from point a to point b in New York then so be it. Some mobility is coming back but it is still painful. If you could spare a few prayers or good healing thoughts my way, I would appreciate it. This is a once in a lifetime trip for me.
In the meantime, I've managed to clear off my dvr completely, watch all of season 3 of Scandal. I'm thinking of rewatching all of Star Wars today (even the sucky ones 1-3..)
Also we gave a certain puppy his first bath (with us) this week.
My very favorite salad is back from Panera too. So if only Panera delivered, then it truly would be a perfect world!
Strawberry Poppyseed nirvana!
And finally, I think we have finally come to an understanding that the puppy is indeed staying around the house. I knew Loki would be the one to warm up to him first!